BEST NASHVILLE BARBECUE RESTAURANTS AND CATERING
Welcome to Famous Dave's Legendary Pit Bar-B-Que®, Home of the Big Slab. Nashville's best barbecue restaurant and catering. Award-winning BBQ ribs, chicken, hamburgers, sandwiches, appetizers, salads and desserts in a unique and family-friendly atmosphere. Open daily for lunch and dinner. Restaurant Hours: Sunday-Thursday 11 am - 9 pm • Friday & Saturday 11 am - 10 pm
Try the BBQ that has won over 600 awards in one of our Famous Dave's Legendary Pit-smoked BBQ rib joints in either Chattanooga, Franklin, Hermitage, Knoxville or Smyrna, or grab-a-load and hit-the-road at one of our fast, to-go counters!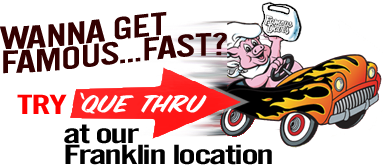 Our "Famous" version of drive through... the perfect way to get Famous Food FASTER than ever!... make it "Que Thru For You!
---
FAMOUS DAVE'S has Tennessee's best BBQ Menu featuring Dave's St. Louis-Style Spare Ribs, hand-rubbed with a secret blend of tongue-tingling spices, pit-smoked for 3-4 hours, slathered in sauce, then flame-kissed on the grill. And now Famous Dave's also offers Baby Back Ribs, seasoned with our Chicago-style rib rub then sauced with Sweet & Zesty and a touch of honey.
Lip-smackin' Barbeque Classics like Georgia Chopped Pork, Barbecue Chicken, Texas Beef Brisket served up as Combos or Real 'Que Sandwiches.
Try Dave's All-American BBQ Feast®, a full slab of St. Louis-style spareribs, a Whole Chicken, 1/2 lb. of either Texas Beef Brisket or Georgia Chopped Pork, Coleslaw, Famous Fries, Wilbur Beans, four Corn-on-the-Cob, and four Corn Bread Muffins. Served family-style and feeds 4-6 hungry people.
Seafood in a BBQ joint? Well, fish have ribs, don't they? Try our Cedar Plank Salmon; a filet caramelized with Pineapple BBQ glaze then grilled and served on a smoldering cedar plant. Reel it in and you'll be hooked.
Famous Char-Grilled Burgers, Tongue Ticklin' Chicken, tasty Appetizers, crispy Entrée Salads, made from scratch Soups, Side Salads and taste-Tempting Side Dishes and Homestyle Desserts where you may have to enlist a friend to share.
Lunch Specials, Lil' Wilbur Meals and Family Take Out Portions
---

Restaurant Hours:

Summer (Memorial Day - Labor Day):
Sunday thru Thursday 11:00 AM - 9:30 PM
Friday & Saturday 11:00 AM - 10:30 PM
Fall, Winter and Spring:
Sunday thru Thursday 11:00 AM - 9:00 PM
Friday and Saturday 11:00 AM - 10:00 PM
---
Chattanooga
2122 Gunbarrel Rd, Chattanooga, TN 37421
Phone: 423-954-3BBQ (3227)
Franklin
7086 Bakers Bridge Ave., Franklin, TN 37067
Phone: 615-778-1BBQ (1227)
Hermitage
5000 Old Hickory Blvd., Hermitage, TN 37076
Phone: 615-882-0999
Knoxville
208 Advantage Place, Knoxville, TN 37922
Phone: 865-694-9990
Smyrna
991 Industrial Blvd, Smyrna, TN 37167
Phone: 615-220-BBQ6 (2276)
Click Here to Download our
Smokin' Deals Menu
---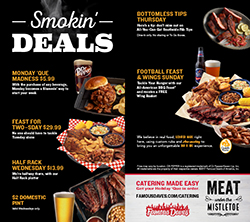 ---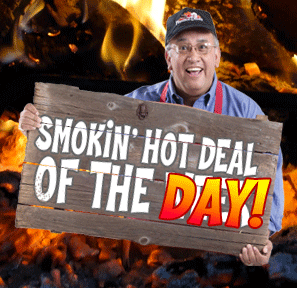 INTRODUCING—

SMOKIN' HOT DEAL OF THE DAY!
It's not just about weekends any more! Famous Dave's give you a reason to look forward to your early week days with Smokin' Hot Deal of the Day! The deals are so hot, only our P.I.G. (Pretty Important Guest!) club members will learn about them by e-mail... and they're only good for that one day! Join our PIG Club today so you'll have access to special savings and deals!
CLICK HERE TO JOIN NOW!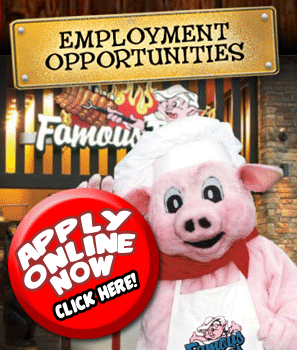 Famous Five Dining proudly supports
Make-A-Wish
in Middle and East Tennessee


Facebook links to Tennessee Famous Dave's

Chattanooga


Franklin


Hermitage


Knoxville


Smyrna