BEST NASHVILLE BARBECUE RESTAURANTS AND CATERING
Welcome to Famous Dave's Legendary Pit Bar-B-Que®, Home of the Big Slab. Nashville's best barbecue restaurant and catering. Award-winning BBQ ribs, chicken, hamburgers, sandwiches, appetizers, salads and desserts in a unique and family-friendly atmosphere. Open daily for lunch and dinner. Restaurant Hours: Sunday-Thursday 11 am - 9 pm • Friday & Saturday 11 am - 10 pm
Try the BBQ that has won over 700 awards in one of our Famous Dave's Legendary Pit-smoked BBQ rib joints in either Chattanooga, Hermitage, Knoxville or Smyrna, or grab-a-load and hit-the-road at one of our fast, to-go counters!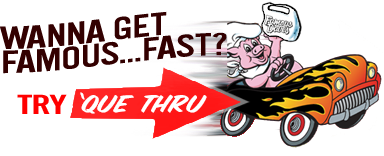 Our "Famous" version of drive through... the perfect way to get Famous Food FASTER than ever!... make it "Que Thru For You!
---
FAMOUS DAVE'S has Tennessee's best BBQ Menu featuring Dave's St. Louis-Style Spare Ribs, hand-rubbed with a secret blend of tongue-tingling spices, pit-smoked for 3-4 hours, slathered in sauce, then flame-kissed on the grill. And now Famous Dave's also offers Baby Back Ribs, seasoned with our Chicago-style rib rub then sauced with Sweet & Zesty and a touch of honey.
Lip-smackin' Barbeque Classics like Georgia Chopped Pork, Barbecue Chicken, Texas Beef Brisket served up as Combos or Real 'Que Sandwiches.
Try Dave's All-American BBQ Feast®, a full slab of St. Louis-style spareribs, a Whole Chicken, 1/2 lb. of either Texas Beef Brisket or Georgia Chopped Pork, Coleslaw, Famous Fries, Wilbur Beans, four Corn-on-the-Cob, and four Corn Bread Muffins. Served family-style and feeds 4-6 hungry people.
Seafood in a BBQ joint? Well, fish have ribs, don't they? Try our Cedar Plank Salmon; a filet caramelized with Pineapple BBQ glaze then grilled and served on a smoldering cedar plant. Reel it in and you'll be hooked.
Famous Char-Grilled Burgers, Tongue Ticklin' Chicken, tasty Appetizers, crispy Entrée Salads, made from scratch Soups, Side Salads and taste-Tempting Side Dishes and Homestyle Desserts where you may have to enlist a friend to share.
Lunch Specials, Lil' Wilbur Meals and Family Take Out Portions
---

Restaurant Hours:

Sunday thru Thursday 11:00 AM - 9:30 PM
Friday & Saturday 11:00 AM - 10:30 PM
---
Chattanooga
2122 Gunbarrel Rd, Chattanooga, TN 37421
Phone: 423-954-3BBQ (3227)
Hermitage
5000 Old Hickory Blvd., Hermitage, TN 37076
Phone: 615-882-0999
Knoxville
208 Advantage Place, Knoxville, TN 37922
Phone: 865-694-9990
Smyrna
991 Industrial Blvd, Smyrna, TN 37167
Phone: 615-220-BBQ6 (2276)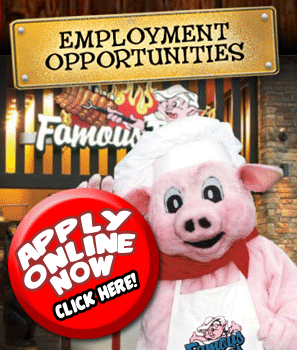 Famous Five Dining proudly supports
Make-A-Wish
in Middle and East Tennessee


Facebook links to Tennessee Famous Dave's

Chattanooga


Hermitage


Knoxville


Smyrna